If you struggle with weight loss and you've tried all manner of diets and workout programmes, but to no avail, you're in the right place.

Give me just 5 minutes today, and I'll show you how women all over the country are losing up to 20 pounds in just 70 days.
Let me tell you a story...
A couple of years ago, a slightly overweight lady called Linda approached me, at her wits end, about losing weight. Linda had been unhappy with her weight for several years, trying lots of different diets and slimming clubs but nothing worked.
She had done Weight Watchers, Slimming Word, Herbalife, Juice Plus and The Body Coach 90 day sss ……you name it, she had tried it but the results was always the same. Initially she experienced some weight loss due to the huge drop in calories.
She very quickly became bored of eating the same foods, she grew tired of all the hours spent of food prep, she was constantly craving all the tasty foods that were on the 'banned list', she was saying 'no' to invites to meals and nights out, she was getting confused with all the 'syns', 'points' and 'free' foods and she was struggling to find the time and the money to travel to back and forth to the gym.
Inevitably, the temporary weight loss all went back on when she grew sick and tired of feeling hungry, miserable and anti-social.
Ready to throw in the towel, and resign herself to a life of being overweight and unhappy that's when Linda heard about 10 Week Lean & Learn.
At first, she wasn't convinced.
Having tried weight watchers, slimming world, Herbalife, Juice Plus and The Body Coach 90 day sss and spent in excess of £1000 on shakes, pills, weird and wonderful ingredients and gym memberships, she was sceptical.
And she was right be to cautious. After all, there are a lot of charlatans out there in the fitness industry, promising the world, and delivering very little.
So I directed Linda to our website and showed her some of the results our other clients had been getting.
Results like this...
How Angela, Shanna and Liz lost a total of 10 stones in 10 months without giving up wine or any of the foods they love.
Angela thought she'd have to go through the pain of giving up wine, social events, going out with her friends and anything that involved the kind of fun she didn't want to eliminate from her life.


Shanna though she'd have to show up at the gym on a regular basis and feel embarrassed by all the other bodies walking around making her feel inadequate.


Liz thought she'd have to spend hours in the supermarket and in the kitchen, shopping for ingredients she'd never heard of, preparing her meals for the week and eating different foods than the rest of her family.


These people ALL got their result in less than a year. And ALL by following a method that allowed them to drink wine, eat treats and required only 60 minutes of exercise at home per week.
Introducing the new method that's allowing women around the country to lose weight without having to stop drinking, give up junk food or go to the gym.
Now, what I'm about to reveal to you is probably going to sound shocking.
But go with me, because I'm going to show you undeniable proof that it does work.
First, we need to know why other methods of losing weight simply DO NOT WORK.
Take slimming world for example…
It tells you that you can lose weight and keep it off. Trouble is, those results never happen. The reason for that is there is no education or exercise advice...
They deal with syns which means nothing in the real world...
There is no talk of calories, or macronutrients and how they affect body composition...
No mindset coaching to prepare you for losing weight...
You are left alone all week then forced to stand on a scale to determine your success or failure.
What about weight watchers…
Again the results are poor and unsustainable...
You may feel pressurised into losing some weight initially in fear of being shamed at your weekly weight in but what happens after the weigh in...
You treat yourself and have a binge…
And The Body Coach…
While I admire Joe Wicks and the way he has used his infectious personality to help get the nation cooking and exercising, we have had 100's of women come to us after failing on his 90 day plan...
Why?..
They don't have time for all the food prep...
There is no mention of calories or macros in his recipes (some are over 1000 calories)...
They don't have time to go the gym...
It's too complicated...
It doesn't fit in with normal family life.
And don't even get me started on fad, meal replacement diets like Herbalife, Juice Plus and Clean 9…
These are simply money making, pyramid schemes where recruits that know nothing about health, fitness or nutrition are peddling magical weight loss supplements to make some extra cash on the side...
Would you allow your neighbour or work colleague to diagnose your illness and prescribe medication?.. No!
So why allow someone with no qualifications or knowledge of nutrition to sell you supplements?..
The primary reason that anyone tries to sell you these 'diets' is so that you become and affiliate for them, so they can earn commission on your sales.
So now we know what DOESN'T work, let me tell you what does...3>Introducing 10 Week Lean & Learn
This is the 10 week programme designed to help women who have been stuck in a cycle of fad diet and rebound weight gain finally lose weight, feel great and keep the weight off forever.
See, usually with something like this, you either get -
A couple of sessions a week with a rookie personal trainer, where you're left completely alone for the other 166 hours of the week. Or...
General fitness and nutrition support ONLY, not taking into account the individual mental and physical challenges that women battle when trying to lose weight.
A tonne of PDFs and videos, that get left unopened on your hard drive, never to be used or put into action.
But not with 10 Week Lean & Learn. Here's how it works -
When you register, you get a beautifully designed, easy to follow welcome pack containing your meal plan, swap sheet, shopping list and an overview of the educational content you will receive over the 10 weeks.
The meal plan will consist of 7 different days of simple, easy to follow meals and snacks and all days will add up to the same amount of calories, protein, carbs and fat per day.
The plan is flexible so meals can be moved around or preferred days can be repeated to replace others that contain foods you are not so keen on. Your calories are tailored for you to ensure you burn fat. The swap sheet and the coaches on the programme can help you make swaps and there is an optional daily recipe posted with advice on how to fit it into your plan.
The programme is delivered through a members website where you can access all the workouts, recipes and educational videos.
You have the option to join a private facebook group, exclusively for Lean & Lean clients where you can ask questions and post your weekly results. Great for motivation and accountability.
The accountability of the group and the website forum ensures you take action and don't just leave your shiny, new welcome pack unopened on your hard drive.
There are daily educational videos posted along with daily recipes and a weekly home workout video.
There is a new 20 minute home workout video posted every week. The workout will contain circuit style, bodyweight exercises so no equipment is necessary. This means that you won't need to set foot in a gym as everything can be done from home.
There are also 5 bonus workouts from the coaches including yoga, pilates, dance, combat and core workouts.
There are variations of each exercise to suit all fitness levels. The workouts are done at least 3 times over the course of the week so only 60 minutes of weekly exercise is required but more can be done, if desired, to improve results. You can also continue to do any other exercise that you enjoy.
There is a team of coaches to support you every step of the way. They consists of:
A nutritionist and exercise coach to support you with the meal plan and workouts.
A life coach to support all your mindset challenges like motivation, thoughts, feelings, behaviours, habits, emotions and body image.
A female health coach to support with areas like pregnancy, post natal, menopause, pelvic floor, core and back issues and menstrual cycle.
I am also on the programme to support you. I haven't simply created this programme then hidden away.
There are educational videos posted every day. We want to empower you with knowledge so you can successfully manage your health and fitness for the rest of your life. Understanding the process is the key to long term success. The videos cover a range of topics from all the coaches and are delivered is short simple bite size chunks which are quick and easy to understand..
At the end of the 10 week programme we won't leave you high and dry. After the There is an option to join the Graduate Programme. You get access to a private area on the website where there is a library of over 100 workouts, over 600 recipes and over 150 educational videos. You can also join the support group where there is a timetable of live weekly workouts, live Q&A's and all the coaches are on hand to answer all your questions.
At this point you a probably wondering who I am and why my team and I are qualified to achieve these results for you.
Meet Your Coaches
I guess it's time I introduced myself and the team behind 10 Week Lean and Learn.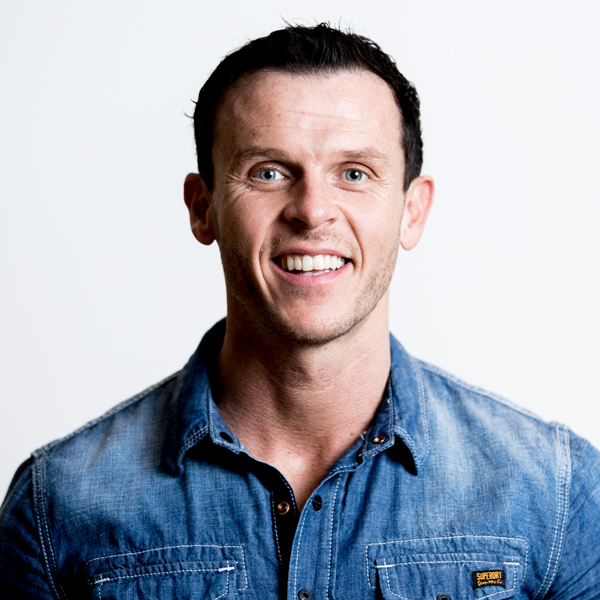 I'm Steve Bradley, married to Jodie and living in Aberdeen with our 2 kids (Blake & Layla). I've worked in the fitness industry for 12 years, 9 as a personal trainer. My mission in life is to help women get out of the cycle of fad diets and rebound weight gain. I want to help women lose weight while still enjoying a great social, having a few drinks and treats and without spending hours in the gym.
In 2016 I created 10 Week Lean & Learn and since then we have helped over 5000 women lose over 35,000kg of weight. I'm not just the face behind Lean & learn. I am in the programme every day along with the other coaches answering questions and supporting all our clients towards achieving their goals.
As well as myself we have the expertise of a Female Health Coach, Lisa Gimenez-Codd, to support you with Core & Pelvic Floor issues, post-natal and peri-menopausal transitions. Her aim is to help you to feel strong and confident from the inside out, with full understanding of the "girly issues" that may hold you back. Lisa is an advanced Personal Trainer, Low Back Pain specialist, Holistic Core Restore@ Coach and MNU Certified Nutritionist.
We also have a Life Coach, Shona MacPherson, to support you, not just with the physical challenges, but with the psychological challenges that come with trying to lose weight. So much of the journey to your 'best self' is about mindset and that is Shona's role on the programme. Providing support around thoughts, feeling, habits, behaviours, body image and how to train our minds to support a fitter and healthier body. Shona is a personal trainer, former nurse and counsellor and qualified Life Coach.
We also have a Lead Support Coach, Lamorna Hollingsworth, who is ready to answer all your questions, help motivate you, provide alternatives to any foods you don't like or exercises you struggle and to celebrate your successes and support you thorough your struggles. Lamorna is a personal trainer and MNU Certified Nutritionist.
So Steve, What Results Can I Expect?
Well, by week 2, most of our clients lose between 3 and 5 pounds and realise that this is not just another 'diet'. They feel more energetic and they love seeing the scale go down. They think they can notice physical changes, but they aren't 100%. However...
By the time week 4's done, most have dropped a dress size, and KNOW they look different. They've noticed less 'overhang' when they sit down, and they actually think their arms and thighs are looking pretty good.
Once we're at the end of week 7, average weight loss is 14 pounds, and most are closing in on 2 dress sizes lost. They're now comfortable to go out in slinky tops, dresses, and even go to the pool or sunbathe in the park for the first time in years.
And when the programme is done and dusted by week 10, our average loss is 20 pounds, with 2, if not 3 dress sizes gone. Plus, our clients tell us how much more confident, desirable and happy they feel.
Clients such as Linda, Laura and Katherine.
Linda
"The programme for me has been fantastic.  I've eaten proper good food and as for snacks I must say some days I really can't eat them all.  As for the exercise which is 20/25 minutes… It's no time at all.  Not only have I lost weight but more importantly cm's consistently over the last 10 weeks.
With every week that passes my energy levels have gone up and I've found a new love for cycling!
Laura
"I can honestly say that Lean and Learn has completely changed my life for the better! I was a classic yo-yo dieter, and even though I did a lot of exercise classes, I never seemed to shift any weight. After I had my 3rd baby I decided to take the plunge and sign up, and I'm so glad I did!
There are no foods that are 'banned', it's not a diet, there is no feeling guilty for having a treat or a night out. It's eating well and embracing exercise – I've never had so much energy! I feel so much better about myself – after 10 weeks I've reached my original target weight, which I've never achieved on any of the other plans I've tried. It's not just about the numbers though – my mindset has been changed and I know I could never go back to eating like I used to. I've found the balance!"
Katherine
"I was amazed at how easy and enjoyable the entire process felt. Not once did I feel like I was on a diet, I never felt like I was missing out on any food, drink or social events and most importantly, it fitted perfectly with my family life. Finally, something that I can stick to."
The Only Question Left to Ask is - "What's Stopping You?"
10 Week Lean & Learn is open to woman who wants to lose weight and feel great.
But there IS a catch.
That catch is that you need to be motivated, actually believe you can achieve results like these, willing to give up 1 hour per week, someone who values results, willing to educate yourself and not just looking for another quick fix.
If that sounds like you, and you want to achieve results like you've seen on this page, you have a couple of options...
Option 1 is to take everything you've seen on this page and do nothing. Go back to trying fad diets, getting back into the gym, (again,) keep struggling for motivation and consistency, and getting annoyed and frustrated when you hit a plateau.

Chances are, you'll be back here in 3 months, wishing you'd acted sooner, and regretting the fact that had you took action initially, you'd already have those results you wanted.


Or option 2 is to take action and join Lean & Learn.
Who knows, this could be the first step to you achieving the fat loss you've been longing for.
If you need me to put your mind at ease further, here are some of the common questions I get asked about the programme
I've done my best to answer a few of them below -
What's the cost of the programme?
£99 for 10 weeks so less that £1.50 per day for the entire programme that will give you the platform to change your life forever.
How long do I need to spare each week?
Only 60 minutes per week. Each workout is 20 minutes long and you do each 3 times per week. They are all done from home so no need to waste time travelling to and from a gym.
I am a fussy eater. What if I don't like the foods on the meal plan?
The plan is extremely flexible so there is no need to eat anything you don't enjoy. You get a detailed swap sheet and the team of coaches can help you make changes.
Can you give me an example of the types of meal/snacks on the plan?
I've made the meal plan quick, easy and simple to follow.  It's all normal foods, cost effective, easy to find and prepare.  There's no complicated recipes or rare ingredients.  It's all food that the whole family will enjoy so there's no need for cooking separate meals for yourself and no requirement for hours of prepping.
Some examples of breakfasts are - Smoothies, oats, eggs, toast, bacon
Lunches - Sandwiches, salads, wraps, pittas, rolls with fillings like chicken, tuna, cheese, ham
Dinners - Mince and potatoes, stir fry, burgers, steak, salmon, rice, spaghetti bolognese
Snacks - Yogurts, popcorn, oatcakes, fruit, nuts
I enjoy running/cycling/swimming/weight lifting etc. Can I still do this?
Yes, we encourage you to continue doing any other exercise you enjoy.
I'm vegan/ vegetarian? Is this suitable?
We don't recommend it as there meal plan contains meat, fish and dairy products.
Is this online or in a gym?
It's an online programme so can be done from anywhere in the world.
How does this differ from other online programmes?
The flexibilty, the education and the coaches support and what makes this programme unique and so special. Many women report that this is the first programme that they have been able to stick to.